Posts for: November, 2021
By Premier Dental Care
November 14, 2021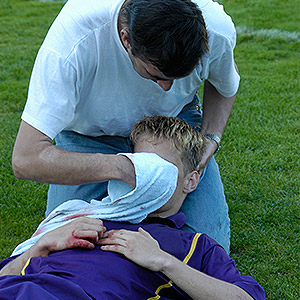 Although kids are resilient, they're not indestructible. They're prone to their share of injuries, both major and minor—including dental injuries.
It's common for physically active children to suffer injuries to their mouth, teeth and gums. With a little know-how, however, you can reduce their suffering and minimize any consequences to their long-term oral health.
Here are 4 types of dental injuries, and what to do if they occur.
Chipped tooth. Trauma or simply biting down on something hard can result in part of the tooth breaking off, while the rest of it remains intact. If this happens, try to retrieve and save the chipped pieces—a dentist may be able to re-bond them to the tooth. Even if you can't collect the chipped pieces, you should still see your dentist for a full examination of the tooth for any underlying injury.
Cracked tooth. A child can experience intense pain or an inability to bite or close their teeth normally if a tooth is cracked (fractured), First, call the dentist to see if you need to come in immediately or wait a day. You can also give the child something appropriate to their age for pain and to help them sleep if you're advised to wait overnight.
Displaced tooth. If a child's tooth appears loose, out of place or pushed deeper into the jaw after an accident, you should definitely see a dentist as soon as possible—all of these indicate a serious dental injury. If they're unavailable or it's after hours, your dentist may tell you to visit an emergency room for initial treatment.
Knocked-out tooth. Minutes count when a tooth is knocked completely out. Quickly locate the tooth and, holding it only by the crown and not the root, rinse off any debris with clean water. Place it in a glass of milk or attempt to place it back into the socket. If you attempt to place it back into the socket, it will require pressure to seat the tooth into position. You should then see a dentist or ER immediately.
A dental injury can be stressful for both you and your child. But following these common-sense guidelines can help you keep your wits and ensure your child gets the care they need.
If you would like more information on pediatric dental treatment, please contact us or schedule an appointment for a consultation.
By Premier Dental Care
November 04, 2021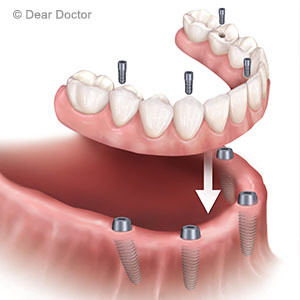 Losing all your teeth can dramatically impact your life for the worst. Fortunately, we can give you your "teeth" back. The most common way, at least until a few decades ago, is with custom dentures, which reasonably restore life-like appearance and dental function. But it does have one major drawback—it can't stop bone loss.
Loss of bone in the jaws often occurs with missing teeth. Normally, the bone continuously generates newer cells to replace older ones that have died. Chewing stimulates this growth as the force generated travels up through the teeth to the bone. But when teeth go missing, new bone growth slows, eventually causing the bone's volume and density to decrease.
Dentures can't reactivate this lost stimulation, and so bone loss may continue. Dentures even accelerate this loss as the compressive forces applied to the bony ridge are detrimental. This often leads to a "loosening" of a denture's fit that can make them uncomfortable and less secure to wear.
Today, however, patients with total tooth loss have another option that could alleviate the problem of bone loss—dental implants. Since their inception forty years ago, implants have become the preferred method of both dentists and patients for tooth replacement.
Implants consist of a titanium metal post that's surgically imbedded into the jawbone. Bone cells are attracted to this particular metal, readily multiplying and adhering to the implant's titanium surface. Because of this, an implant can slow or even stop bone loss.
Most people are familiar with the single tooth implant with an attached lifelike crown. Although this use of implants could be used to restore total tooth loss, it can be quite costly replacing over two dozen teeth individually.
But implants could still be part of the answer for someone with complete tooth loss, because they can also be used to support traditional restorations. A few implants strategically placed around the jaw can support either a removable denture or a fixed bridge.
Besides being a cost-effective way to add support to these traditional tooth replacements, the inclusion of implants will likely decrease continuing bone loss. Most importantly, it can give you back your dental function—and your smile to boot.
If you would like more information on dental implant options, please contact us or schedule an appointment for a consultation. You can also learn more about this topic by reading the Dear Doctor magazine article "New Teeth in One Day."