All professionals at Premier Dental Care maintain the highest levels of accreditation and pursue ongoing education to stay abreast of the latest trends in the medical field. Read on to learn more about our staff's experience and training.
Dr. Puleo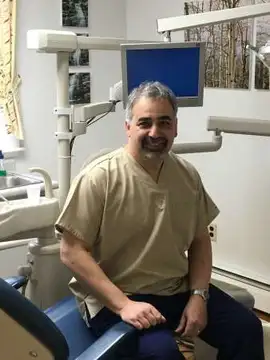 Dr. Puleo grew up in East Boston and Medford MA.. He received a BS degree from Stonehill College and dental degree from Tufts University School of Dental Medicine. He has enjoyed practicing in Hillsboro, NH since 1987. He began with Dr. Carew and continued that practice when Dr. Carew retired. He has three children CJ, Brianna and Julia. As a family they enjoy all the outdoor activities the area has to offer.
In order to offer the best dentistry possible for his patients, Dr. Puleo, takes many courses and is constantly evaluating the latest trends in dentistry. He believes in taking the time with each patient individually to determine what their needs are but more importantly what their desires are. Then he works with you to develop a plan you are comfortable with, keeping in mind your; comfort, needs, financial concerns and time constraints.
He and his team offer the high quality dental care you and your family deserve. As a practice, They are not only concerned with taking care of your dental problems but also determining the cause, to help you prevent them in the future. They want to help you keep your teeth for the rest of your life.
We are located between West Main Street and Route 9. Our practice is open Tuesday - Friday . Give our us a call today and schedule an appointment time that works well for you.